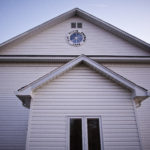 Welcome!
Come join us for our Sunday Worship Service at 9:30am.
Sunday School for ages 2-Adult follows at 10:45am.
If you cannot attend in person, please join us on You Tube where the service will be live streamed at 9:30am. Just click on the YouTube link at the bottom right of this page.
OUTDOOR SERVICES ARE BACK by popular demand! Oak Grove will be holding an outdoor service each 3rd Sunday of the month through the fall at 9:30am, bring a lawn chair. Stay for Sunday School following the service at 10:45am.
SAVE THE DATE
Church Summer Retreat at Camp Kirkmont is
August 13, 14, & 15.
Beginning in May, Pastor Andy will be leading a book study on "The Bible Unwrapped" which addresses questions about Scripture that many have but are too afraid to ask, such as "Are all the stories of the Bible true? What do we do when biblical authors seem to disagree? And what if we encounter situations the Bible doesn't address?" We will be meeting Monday nights from 7-8 PM starting on May 3rd. This 12 week book study will be split up between three months (May, July, and September), and you are invited to participate when able. If you would like a copy of the book for the study (free to you), please contact Audrey or Pastor Andy.
Sharing the Love of Christ in Our Community and Around the World